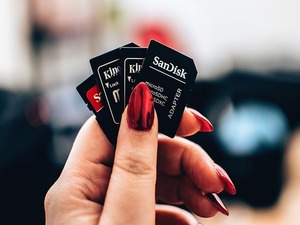 Technophiles rejoice! SanDisk has just announced a new 400GB microSD card, which is good news for just about everyone.
Let's face it, even if you're not a technophile, you probably hate the idea of deleting photos or videos you've taken. But when storage space gets tight, you've probably found yourself in the position of having to make some hard choices about what to keep and what to toss.
The newly announced microSD card will go a long way toward rendering decisions like those a thing of the past as the tiny card can hold up to a staggering 40 hours of HD video. Even better, it boasts transfer speeds of up to 100MBps, which is more than a thousand photos per minute, and that's big news for all the power selfie-takers out there.
Not only does the new card offer plenty of space, but it's also fully compatible with the SanDisk Memory Zone app, which makes it a simple matter to find, organize, transfer and back up your data, and the card is shock, temperature, water, and even X-ray proof to boot!
Jeff Janukowicz, the SanDisk Research Vice President had this to say during the announcement:
"Mobile devices have become the epicenter of our lives, and consumers are now accustomed to using their smartphones for anything from entertainment to business. We are collecting and sharing massive amounts of data on smartphones, drones, tablets, PCs, laptops, and more."
Mr. Janukowicz is certainly correct on that front, and his company is clearly doing all they can to make it easier than ever to store and maintain our growing oceans of data. The new chips are on sale now, and the best part is that they're priced at less than $250, making them accessible to a broad swath of the market.
Good news indeed, and kudos to SanDisk!